The USS Barry Revival; Successes and Failures, is a collection of 33 short stories that tell of the events that took place during the revival on that destroyer, from 1979-1981, of which Chet Swearingen played a part.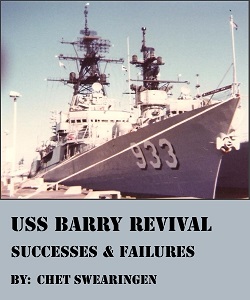 You can read this book —FOR FREE—on this website. Simply scroll down to the table of contents, click on the chapter hyperlinks, and enjoy!
Through the way the Lord worked during those few years Chet was able to learn a lot about how revivals function. After having read extensively on historical revivals, it is acknowledged that the USS Barry Revival would not be considered massive, when compared alongside what took place in Wales (1904-1905), Azusa St. (1906-1915), or other great revivals, but it was still a real revival in its own right, and the events that occurred displayed many of the same commonalities as those other revivals. To be able to capitalize on these rare and unique seasons of refreshing, it is vital that we understand their characteristics, so when they do happen in the future, and we are blessed to be a part of them, we will be able to retain the harvest they will inevitably produce.
Table of Contents
..1. Introduction
..2. How It All Began
..3. It's Too Good to Be True
..4. Collection of Stories from the USS Barry Revival
..5. The Domino Effect
..6. The First of the Dominoes to Fall
..7. Hours of Nonstop Praise and Adoration
..8. Sworn Enemies
..9. Conviction and Resistance
10. Prostitution
11. The Jew and Jesus
12. The Exorcist
13. Agape Night!
14. Another Plate of Ribs Please!
15. The Cross and the Switchblade
16. Disciple-Maker (spiritual mentor)
17. Baptism in the Holy Spirit
18. Mysterious Intervention
19. Ministering to Homosexuals
20. Demonic Presence
21. Antagonists and Confrontations
22. Suffering
23. Psychobabble
24. Victoria's Secret
25. Eating Vomit
26. Decently and In Order
27. Stop Reading the Bible!
28. House of Cards
29. Denominationalism Onboard the USS Barry
30. The Shield was Dropped
31. Rebuked by the Lord
32. Fire Extinguishers
33. Conclusion
Posted September 10, 2014