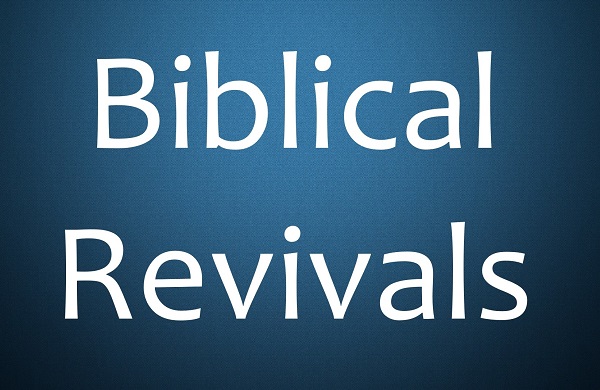 As we read through the revivals recorded in the Bible we can quickly see commonalities among them. In his book Revival Fire, Geoff Waugh lists nine similarities among Biblical revivals:
They occurred in times of moral darkness and national depression.
Each began in the heart of a consecrated servant of God who became the energizing power behind it [only 1 spark].
Each revival rested on the Word of God, and most were the result of proclaiming God's Word with power.
All resulted in a return to the worship of God.
Each witnessed the destruction of idols where they existed.
In each revival, there was a recorded separation from sin.
In every revival the people returned to obeying God's laws.
There was a restoration of great joy and gladness.
Each revival was followed by a period of national prosperity.
We should never have to pray for revival, as the Lord would have us live in a perpetually revived state. The early church (during the New Testament era) lived in continuous revival. The believers were dynamic—although, as the epistles clearly reveal, that they were not faultless. That gives us today great hope!
The believers during the New Testament era experienced rapid growth in numbers through the operation of the Holy Spirit—beginning on the Day of Pentecost. On that single day 3,000 were won (Acts 2:41). On another day not long after that another 5,000 joined their ranks (Acts 4:4). After that we read of "great multitudes" that turned to the Lord (5:14; 6:7; 9:31; 11:21, 11:24; 12:24; 16:5).
Old Testament Revivals
New Testament Revivals
Contact Us to Conduct Our
"Only 1 Spark Revival Seminar"
in Your Church or Community
Beautiful Feet
P.O. Box 915
Auburn, IN 46706
romans1015@outlook.com
Beautiful Feet
P.O. Box 915
Auburn, IN 46706
romans1015@outlook.com
Chet: (260) 920-8271
Office: (260) 920-8248
https://www.facebook.com/TriStateRevival/