Expectation & Intense Desire for the Presence of God
Those seeking a revival should in reality be seeking the presence of God. If we focus on a revival we may get our focus off Christ and onto goals of lesser importance, like:
1. Increased church attendance
2. Increase financial giving
3. Increased participation in church programs, etc.
If we keep our focus on seeking the presence of God, and making Christ central, everything else will fall into its proper order.
No true revival has ever occurred simply because people sought revival. They were birthed when people sought Him. It's time to seek the Reviver instead of revival!

—Tommy Tenney in The God Chasers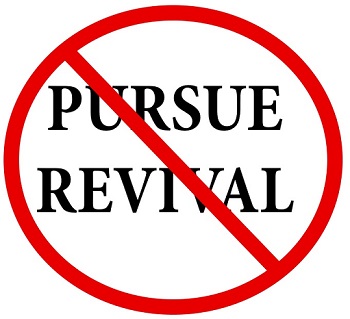 Preaching and teaching should use topics that will build faith in a God who restores and revives. Topics that would produce this faith include:
The holiness of God and the destructive power of sin.

Preaching on this topics opens the door for the Holy Spirit to bring conviction and restoration (not condemnation).

The essential elements that creates unity between Him and His people, which is the n

eed for confession and repentance from sin, and t

he sacrificial death, burial and resurrection of Jesus Christ, who alone made a way for us into the presence of God—the very thing a revival is—a restoration of the manifest presence of God among a people.

Humility; acknowledging our need of Him. This humility being demonstrated in our willingness to fast and pray—privately and corporately (2 Chron. 7:14).

Submission to the Holy Spirit and repenting from any and everything that would grieve Him.

Biblical promises surrounding a newness of His manifest presence that would ignite a burning desire in each person to have God and Him only as their sole object of worship and adoration.

Topics that would build faith in God's will for their lives personally, as well as for the church corporately.

Topics that communicate God's will for the people in the community who are far from God, as well as those in distant cities and nations who are far from God.
.
Frank Damazio, in his book Seasons of Revival, refers to this intense desire for the presence of God as "The Law of Expectation." The following five points are Damazio's comments as it pertains this law:
Pray With Expectation
We must pray that God will give us a spirit of expectation for what He wants to do in and through us as His Spirit moves on us in a season of revival.
Waiting With Expectation
One of the keys to seeing the hand of the Lord move in a mighty way is faith, and faith can otherwise be defined as expectation. Expectation is the ability to see in the Spirit, things God wishes to bring into our lives. It is the art of seeing with the inner man.

"Wait" does not mean to idly sit around in one place for something you think might happen, but to wait, knowing that God will fulfill His promises (Acts 1:4).
Waiting And Knowing
We have an example of this kind of faith in Lk 2:25; 2:36-38. Simeon and Anna were waiting, and they knew they would see what they were waiting for!
Stirring Waters of Revival
The people sitting around the Pool of Bethesda were waiting and they also knew that if they would wait long enough, the waters would eventually be stirred (Jn. 5:1-8). They were eagerly anticipating the moving of the waters.

The divine law of expectation is that we believe there are seasons when God stirs the water and touches people's hearts, where those who are spiritually dry can be watered and those who are lame can be healed. The water must be stirred before we can step into it. We must expect that stirring, and we must step into the water with high expectation, knowing that there is enough for everyone and everything. This is the kind of faith that God responds to.
Nurturing a Spirit of Expectation
We have an example of the divine law of expectation as practiced in the early church in Acts 10:24, where Cornelius, a man of faith and prayer expected a move of the Holy Spirit upon whoever might come to his house and hear Peter's message.

Cornelius so believed that God would minister in his home that he called together all of his relatives and close friends. [He was a man of anticipation.]
Asking and Looking with Anticipation
In Acts 3:1-6 there was a man who was healed by Peter and John. This man was "Expecting to receive something from them."

Peter imparted to that man the faith to believe, or a vision to receive from God whatever he needed.

One of the greatest things we can impart to others is expectation.
.
The widespread revivals that took place in upstate New York during 1820s-1840 are accredited as having been promoted through:
Seasons of fasting and prayer—which were united, agonizing, and persevering.

Confession of sin, with sincerity of heart.

Church discipline, judiciously administered.

Visiting from house to house.

Preaching the gospel, its doctrines and precepts, its promises and threatenings, with great plainness and earnestness.

Well conducted discipleship.

Avoiding disputes over minor points.

Visits by ministers and lay people to areas where revival has been taking place. This caused it to spread to other areas.

Diligent evangelism taking the gospel outside the church walls.