Yes, I had another exciting visit to a local police station during our recent visit overseas. There had been a new traffic regulation installed since last year, of which I was unaware, and I violated it while driving—the team traveling with me being in the car at the same time. A couple of police officers on a motorcycle pulled up alongside our car and directed me to the small police post located at the intersection where the violation occurred.
In the small 10' x 10' police post, filled with the smoke of about 8 chain-smoking officers, I enjoyed the pleasantries of letting them know who I was and why I was in their country (research, writing, etc.), all of them asking me questions at the same time. That was a very challenging time for me, not that I was fearful, but because none of them knew English, and they had accents and used dialects from ethnic groups I was not familiar with.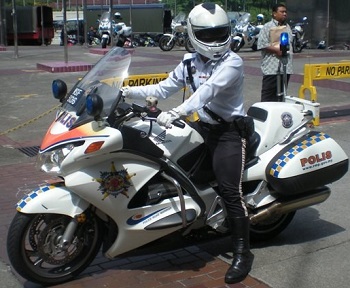 In "lawless" countries like this one, wherein things don't work like they do in the USA, I have found situations like this as a great learning experience, because it is in these situations that you really learn what is taking place inside the culture of the people you work with, and what the local people deal with on a daily basis.
While speaking with the officers, I had them all laughing and we were having a good time as they were "getting to know me." One gave me a "high-five" because I confidently stated that I knew I was going to be leaving soon, going to my appointment. Evidently, he liked my boldness—or I said something else that amused him, by which he was impressed, and I was oblivious to. After about 20 minutes of discussions they said my violation would cost the equivalent $18.00 if I went to an ATM and made the payment with an officer, or made the payment at a local bank. Or I could get a discount if I paid cash—$15.00 if I didn't have an ATM card or a bank account (their pocket money).
After I handed over the money, I'm not really sure what happened, but they gave me $5.00 back. I didn't ask why it came back, I simply put it away, said some kind departing words, and went on my way!
During the entire time the team traveling with me were left sitting in the car in front of the Police Post, interceding on my behalf…, or were they praying for themselves, not knowing if they too would be brought in and be put on the hot seat?! 😊
Posted November 20, 2017