Uniting Indiana, Michigan, and Ohio
.. …….
________________________
…….

Working Among
>>>>>>>>
Some of the World's Most
………..
Neglected People
.
.
________________________________
Only 1 Spark Revival Seminar
Scheduled for Two Locations
The Only 1 Spark Revival Seminar is a rare and unique seminar dealing with the topic which has united in prayer many thousands of believers in the tri-state area of IN, MI, and OH. This seminar is now scheduled for the first two weekends of 2018. Register now to take advantage of the "Early Bird Discount."
Lapeer, Michigan; Cornerstone Christian Fellowship
Saturday, January 6, 2018; 9am – 4pm
►Obtain more information and register with this link.
Fort Wayne, Indiana; The Rock (2 – Day Seminar)
Friday, January 12, 2018; 7pm – 9pm
Saturday, January 13, 2018; 8:30am – 12:30pm
►Obtain more information and register with this link.
________________________________
WEEPING – BROKENNESS
We had the honor and privilege of speaking at Eastgate Community Church in Marion, IN, on Sunday, October 22 (Pastor Steve & Joni Houser). Through the preaching of the Word, and the evidence of the Lord's presence, this congregation was moved to a deep longing for God to send revival. This manifestation of the Lord's presence gave them a renewed realization of their need for revival. On the spot, they determined to meet every Wednesday morning to pray for revival (6am – 8am).
If you are in the Marion area and want to see revival come to Grant County, feel free to join them.
   Eastgate Community Church
   825 South Pennsylvania Street 
   Marion, IN
If your congregation has not made a concerted effort in seeking God for revival, don't fool yourself in believing one will be experienced. Yes, when revival takes place in congregations around yours, you may get the overflow, but it will be but a "sprinkle" compared to the downpour others will be experiencing.
________________________________
IMMIGRANTS PRAYING FOR REVIVAL
IN FT. WAYNE
On Friday night October 20, we joined with International Restoration Church in Fort Wayne, IN, to seek the Lord for revival. This congregation is made up of 15 different ethnic groups and they meet every Friday night for prayer. We believe the Lord is going to use this congregation to spark revival throughout the immigrant community and beyond!
 
21-Day Fast for Revival Begins October 29
International Restoration Church will commence a 21-Day Fast beginning on October 29. Times for corporate prayer during those 21 days will be:
►Mondays, Tuesdays, Thursdays, and Saturdays from 6:00-7:00pm;
►Wednesdays 7:00-8:00pm and,
►Fridays 8:00-9:00pm.
 
If you are in the Fort Wayne area, feel free to join with them for prayer so you can catch their fire!
   International Restoration Church
   4900 Old Maysville Rd.
   Fort Wayne, IN
   www.restorationchurchfw.org
►Pastor Francois Mikobi (wife Salima)
►Assistant Pastor James Masasu
________________________________
Praying for Revival in Detroit
DOWNRIVER DETROIT PASTOR'S FELLOWSHIP (DM3)
On October 3rd we enjoyed a great meeting with pastors in Downriver Detroit. They are interested in us conducting our Only 1 Spark Revival Seminar in their area.
There were two people at the meeting from Jackson, MI. They asked us to speak at the Jackson County, Michigan, National Day of Prayer (May 3, 2018). There's also interest for us to conduct our revival seminar there—discussions are in progress.
Read about our "Only 1 Spark Revival Seminar" with this link: http://romans1015.com/only-1-spark/
________________________________
.
Praise & Prayer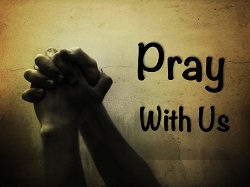 ►ONLY 1 SPARK REVIVAL SEMINAR
1. Pray for the Lord to open doors for this seminar to be conducted in other cities.
►OVERSEAS MINISTRY VISIT
Pray for our November trip overseas and these objectives.
1. To conduct research among a 100% unengaged people group.
2. To follow up on projects we have been involved with.
3. To bring encouragement to the church planters around the region.
______________________________
MORE THAN 400 EMBRACE CHRIST

During the first week of October the Billy Graham Evangelistic Association conducted an evangelistic event in Fort Wayne, IN. This was made possible through the participation of many churches and ministries throughout the region. The result of this effort was that "More than 400 people came forward . . . to commit or rededicate their lives to Christ."*
We enjoyed the honor and privilege of working alongside other believers at this event, facilitating 1-hour prayer groups on two separate days during the services. Please keep praying for the local churches as they conduct the extremely demanding work of discipleship.
*As reported by the Billy Graham Evangelistic Association
________________________________
Our Feet Overseas
Working Among Some of the World's
Most Unreached People
.__________________________________
Ministry Visit Overseas
Unengaged Unreached People Group
We will be overseas during the month of November, following up on projects that your donations have helped make happen, as well as making visits to church-planters. One high-priority goal we have is to make contact with a tribe of people that have no known Christians among them, nor are there any national evangelists focusing on them. Please keep our travels in your prayers during November.
Projects Producing Fruit
It has been exciting watching church planters capitalize on the recent projects many of you donated towards. Community projects like schools, homes, water wells, etc., generate interest in the message the church planters share. An eight-month movement has been taking place following projects in one area. A separate area is now being given attention with multiple projects, and we are praying that similar results will transpire there.
________________________
Settlement for Primitive People
Because of your donations, progress is moving forward on the land that was purchased for a primitive ethnic group. There is now a church (also used as a school), a deep-drilled water well, a water tower for gravity feed of water, and restrooms. Future plans are for small homes to be built, as the people now live in their traditional homes made of a thatched roof (or plastic sheeting) and a platform made of branches for their bed (no walls).
.