..     .

Tri-State Revival
Uniting Indiana, Michigan, and Ohio
 .. …….
________________________
 …….

Working Among
>>>>>>>>
Some of the World's Most
………..
Neglected People
……….
_________________________
.
________________________________
.
TRI-STATE REVIVAL
Indiana, Michigan, Ohio
Next Phase
Two months ago we sensed the Lord directing us to expand from conducting county-wide revival prayer gatherings and launch out into conducting county-wide evangelistic services.
This is a huge step of faith, as each county could take 6-8 months of planning as churches are united, trained, and prayer conducted in preparation for these united evangelistic services.
We are currently communicating with churches from three different counties about the possibility of them uniting their churches to see this happen. Please pray for the Lord to give clear guidance.
Above Picture:
"IGNITE"–Paulding County Ohio's Revival Prayer Gathering that took place on October 4, 2016. This county is also planning a January Revival Prayer Gathering. They are also seriously asking the Lord to give them guidance on their next steps, beyond prayer.
.
________________________________
.
IGNITE II
Paulding County Ohio's
SECOND Revival Prayer Gathering
The believers of Paulding County Ohio conducted a united revival prayer gathering on Oct. 4, 2016, and due to the tremendous passion for unity that prayer gathering generated, a second one will take place on Monday, Jan. 23, 2017 @ 7pm.
During IGNITE II, Paulding County believers will be presented with a challenged to take a step of faith and put feet to their prayers as they unite to conduct evangelistic efforts.
Only obedience rationalizes prayer. Only missions can redeem your intercessions from insincerity.  -William Carey
21-DAY FAST
IGNITE II will be preceded by a 21-Day Fast beginning on January 3 and ending after the prayer gathering on January 23. This is a voluntary fast with every individual deciding what they will fast from.
Fasting guidelines can be found on our website with this link: http://romans1015.com/guidelines-for-fasting/
► Location of IGNITE II: Paulding High School Auditeria
► Date: Monday, January 23 @ 7pm
________________________________
.
Prayer Request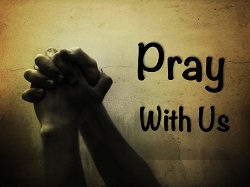 The Lord has been using us to unite counties in prayer for revival, and we now sense Him leading us to focus on our evangelistic calling. This is why we  returned from overseas. Our prayer efforts were preliminary to evangelism.
Please pray for the Lord to open doors  for us to preach the Gospel.
Pray for us, too, that God will give us many opportunities to speak about his mysterious plan concerning Christ (Colossians 4:3).
Become an Intercessor for Beautiful Feet
We send out detailed prayer requests about 2x per month. If you would like to receive these prayer requests, as well as praise reports, please send us an email requesting them. Another option for obtaining these prayer requests is by signing up for them on the bottom left side of any of our websites pages.
Email: romans1015@outlook.com
________________________________
Our Feet Overseas
Report on November Visit
.
Very Rewarding Visit Overseas

The island we lived on overseas has 52 million people, with the overwhelming majority not being Christian. In spite of the small number of believers, we were very encouraged during our recent visit, as there has been tremendous progress made during the past year.
Pictures at Right & Below: Foot powered sewing machine. This is used by the below pictured lady, who supplements their income with making clothes. Her husband is a church planter in an area where there is significant resistance to the Gospel.
During our visit we traveled around to the sites where the church-planters are located, and after seeing the motivation and inspiration they have, we know the work will continue to expand long into the future.
A List of Some of the Developments
Tremendous results from a well that was drilled last year. Notable improvement in health has resulted.
The Training Center has had a new classroom added.
A new site is being developed in the jungle to provide homes, a church, school, and clean water for 300 people.
A separate site is building a church, which will also serve as a school. A new water well is also being proposed for this site.
Previous students from the Church-Planter Training School are serving in a number of different areas around the island, and the school keeps expanding.
Several of the main leaders from the home church have been sent to live in other major population centers, and they have been starting churches in those areas as well.
A List of Some of the Challenges
The dominant religion is a very powerful and controlling force that spreads its power through intimidation and terror. This is a daily threat believers face in this country.
Sickness from easily curable diseases often afflicts the people in these developing nations.
The ability to obtain clean water is a daily challenge.
________________________________
.
Very Rewarding Visit
During our travels around this region during the month of November, we were very pleased to see many of our former Bible School students serving the Lord in difficult and challenging locations.
Above Picture: The young man on Chet's left is one of his former students. It is exciting seeing him, and many others, taking huge steps of faith in their obedience to the Lord.
________________________________
.
18 Year Old Widow
We recently met a lady who is raising 4 children alone. Her husband passed away several years ago. That lady's oldest daughter, who is now 18, is also raising two of her own children. That girl married at 14, which is common for people living in primitive conditions.
The whereabouts of that young lady's husband is unknown. Did he die somewhere in the jungle? Did he run away? They can only make assumptions.
Some of the donations we receive goes to assist widows and orphans, specifically in these areas where there is no government assistance.
.
.
________________________________
.
Help a Community Obtain Clean Water
There has been a church and school started in the jungle, and we now desire to help this community obtain sanitary water.
There are 30 people that are all using the well pictured at the right. The plan is to drill a well that won't go empty during the dry season.
Contact us if you would like to play a part in seeing this small community obtain sanitary water.
_______________________________
.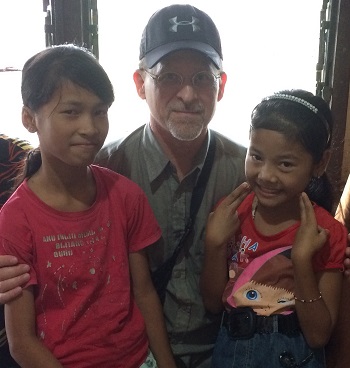 Leadership Development Starts Early
These two young ladies are leaders over the children's ministry in their village. For a church-planting movement to expand rapidly, and be sustained, there has to be a strong "bench" for the movement to continue long into the future.
This church-planting movement we're part of doesn't come behind a single church in the USA when it comes to leadership development.
_______________________________
.
New Settlement for 300 Primitive People
One of the projects we are working on involves a lot more than just drilling a well. This is the formation of a settlement for a clan of tribal people who have traditionally been nomadic, wandering through the jungles, setting up temporary camps for a few weeks to a month (hunter-gatherers).
One hectare of land has been purchased and the first family groups are beginning to build their homes on it. We will eventually get a well dug there, with electricity, and even have a school for the children (the parents are all illiterate-never having attended school).
It is expected that this clan will number close to 300 people as progress is made on home construction, water well is dug, and electricity is brought in (or a generator set up).
These families primarily exist off the income they get from selling wild pigs that they trap and hunt in the jungles.
Contact us to be part of what God is doing among these people: romans1015@outlook.com
.
Video Below: The video shows the jungle area that is being developed. The pastor for this group has been effective in evangelism. He is also active in reaching out to neighboring clans of people who are dwelling in the jungles.

_______________________________
.
New Well Produced Tremendous Health Improvements
One year ago there was a well drilled at the Narcotic & Mental Health Rehab Center. Previous to that well the center was using a 15-20 foot deep well. That well was contaminated, causing skin rashes and severe itching on the patients and staff.
With this new deep drilled well, all the skin issues have gone away!
Other improvements that have taken place at this training center:
Concrete floor in the kitchen.
New dining space.
Increased sanitation in food prep.
New building built for expanding the training of church-planters
_______________________________
.
Curable Sicknesses Often Lead to Death
Why is there still much suffering in the world? Why are there still millions afflicted and dying from curable infections and diseases? One reason is corruption. Another is the persecution from major religions that is suppressing the minority religions around them.
_______________________________
.
Huge Need for Teachers
Living in the jungles is difficult, even for most nationals, so to get  a commitment for teachers to go and live among primitive people, to teach their children, is a very hard role to fill. Please pray with us about this need. We would like to see a school started in this area.
_______________________________
.
Wild Pigs Provides Income
Some of the church-planters we are in relationship with provide an income for themselves through hunting and trapping wild pigs.
The sacrifices these believers are making to conduct ministry is very inspiring. Their dependence for ministry and their existence isn't on money, it's in their "waiting on God." That is, absolute dependence on Him.
Chet experienced a "Fresh Encounter" with God during this visit. His prayer is that pastors who want more than just another mission trip will consider traveling with him in the future. Chet guarantees that they will return home, not with their emotions ticked for a few weeks, they will have their foundation renovated.  Groups of teens are also welcome to travel with us.
Picture at Right: People from this tribe make their own guns. They are muzzle-loaders with flint locks. They also make their own gunpowder. We have had the opportunity to hunt with them on one occasion. It was an interesting experience.

_______________________________
.
Cultural Information
The below videos are general information about different aspects of the culture in this area.
_______________________________
Opportunities to Give
All of our support, for our personal needs, as well as ministry in this nation, and for ministry in the tristate area of IN, MI, and OH, comes from donations from individuals, churches, and businesses.
Here are a some of the areas your donations can be used:
►Evangelistic/ Revival Ministry in IN, MI, & OH
►Several locations need new water wells drilled
►Orphans
►Widows
►Feeding the Poor
►Church-Planters
►Evangelism Training
►Bible School
►Support of Evangelism Teams
►Support of Students in Jungle Elem. Schools
►Narcotic & Mental Health Rehab Center
_______________________________
THANK YOU FOR YOUR
FAITHFUL SUPPORT!