Over 150 New England Towns Experienced Revivals
Asahel Nettleton, an evangelist during this time period, stated that "during a period of four or five years, commencing with 1798, no less than one hundred and fifty churches in New England were favoured with the special effusions of the holy Spirit; and thousands of souls, in the judgment of charity, were translated from the kingdom of Satan into the kingdom of God's dear Son."*
~~~~
Things that Helped Spread the Revivals
Telling stories about revivals in other locations.

Reading accounts of revivals to the congregation.

Visiting a location where a revival was taking place.
Revivals often affect neighboring towns, as people from the surrounding area read of the accounts, or they go and visit the location where the revival is taking place. Revivals are "infections," and they often spread by people who visit the scene of a revival.
When people return to their own church after having visited a location experiencing revival, they often apply revival generating principles with renewed vigor. This enhanced expectation for revival often brings about the desired result. 
~~~~
The below picture shows a few of the 150 towns from Connecticut and Massachusetts that experienced revival during 1797 – 1814.
Note: a few of these towns experienced multiple revivals during this period.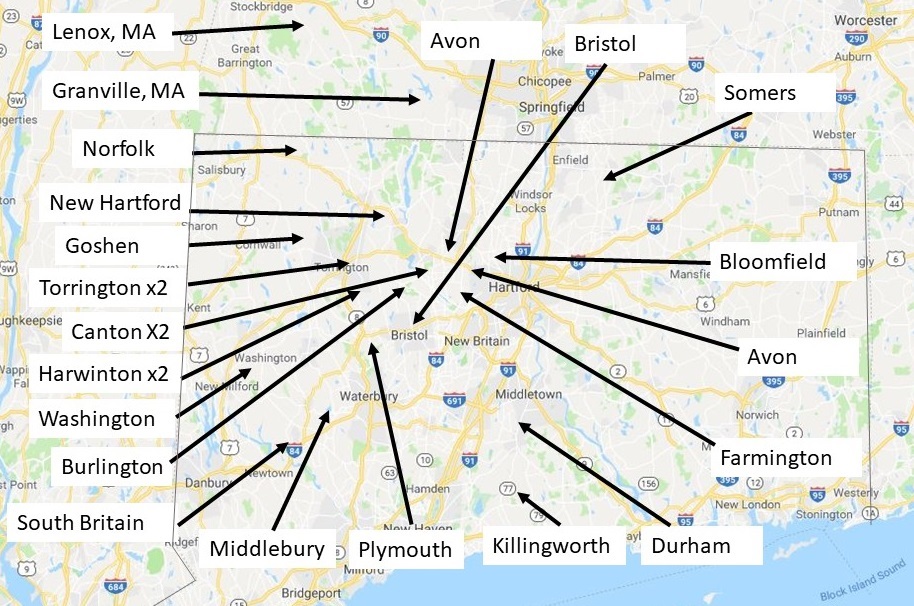 ~~~~
Initial Stages
In the book "New England Revivals," the twenty-five accounts of revivals documented are but a sampling of the 150+ plus revivals that occurred.
The pastors that supplied data for the book acknowledged the following condition of their churches prior to them experiencing revival:
►The attendance at our church was the same for 25 years.
►There was no life and a dark cloud covered our congregation.
►Our congregation was aging, with the older people dying off.
►We had experienced decline for 12 years.
►A dry spell had come upon our congregation.
►There was a spiritual dearth that was blanketing our congregation.
~~~~
Means Employed to Turn the Situation Around
Note: The pastors and congregations did not implement "church-growth principles," they dealt with the spiritual root problems, which involved prayer and revival themed sermons and teachings.
►Special services were scheduled and ministers from outside the area were invited in to preach (this was mentioned by multiple pastors).
►The ministers from outside the area that would preach the special services would also meet in homes with groups of people from the congregations.
►Special prayer meetings were conducted at the church and at people's homes. During the meetings they would pray, read the Scriptures, and sing psalms.
►The congregation would be told accounts of revivals that were taking place in other towns.
►The congregation made commitments to put away worldly entertainments.
►Church discipline wasn't swept under the rug. They dealt with unrepentant church members in a cautious manner.
~~~~
Results of their Actions
►After humbling themselves in prayer, placing a renewed focus on the Word of God, and repenting from sinful activities, the pastors acknowledged the Holy Spirit began to move in the congregations by bringing a renewed conviction of sin.
►The majority of the pastors reporting indicated that it was among the youth that the revivals started, and among whom it had the greatest effect.
~~~~
Results in Increased Church Membership
These are a sampling of the testimonies that were submitted by the pastors whose congregations experienced revival. It must be remembered that these were very small communities:
►Scarcely a day passed in which someone placed their faith in Christ (48 were added our church).
►In one year 99 had become members of our church.
►There have been 140 who have made a profession of their faith, with another 75 "in process."
►The first revival, in 1798, brought us 78 new members. We then went through a very depressing period for 7 years, but it was turned around in 1805, and we added another 45.
►We had 54 people become members.
Other testimonies were similar.
~~~~
Stories and information like this, with additional detail, are told during our "Only 1 Spark Revival Seminars." Contact us to enquire about having this seminar conducted in your community.
.
.
.
.
Source:
*Handbook of Revivals
by Henry C. Fish (1874)
New England Revivals
by Bennet Tyler (1846)