Initial Stages—1790s
►Logan County Kentucky was known as "Rogues Harbour," because the majority of the people living there were "murderers, horse thieves, highway robbers, and counterfeiters." They had fled to this area to avoid capture and punishment by the judicial system in the eastern states.
►January 1797: Presbyterian  Pastor James McGready came to Logan County to oversee the churches of Red River, Gasper River and Muddy River.
►1797-1800: McGready confessed that,
There was a coldness and deadness that had spread over the congregations.

The appearance of the Holy Spirit's departure was gloomy.

The few faithful were alarmed about this condition and felt deeply concerned about the lost.
~~~~
Extraordinary Prayer
►1797: McGready spent the first Monday of each month with his three congregations in united prayer. There was also a commitment to praying for McGready at sunset on Saturday evening and sunrise Sunday mornings.
~~~~
What Happened
First Camp Meeting—June 1800
►McGready gathered his three congregations, of 400-500 people, at the Red River church to conduct a communion service, which was a 4-days ritual, similar to the pattern observed in Scotland (Cambuslang).
►The following is McGready's testimony at the conclusion of the last sermon on the final day of the camp meeting:
A dreadful, striking solemnity overspread the whole assembly—the multitude were all in tears—awakened sinners were struck with such keen, piercing convictions, that many of them fell to the ground, and roared out in extreme anguish, "What shall I do to be saved?" Some of God's children were filled with a sense of the love and goodness of God in Christ to their souls, like bottles filled with new wine, till their bodily strength was almost gone. It was truly affecting to see little boys and girls, of nine, ten, and twelve years of age, and some younger, lying prostrate on the ground, weeping, praying and crying for mercy, like condemned criminals at the place of execution.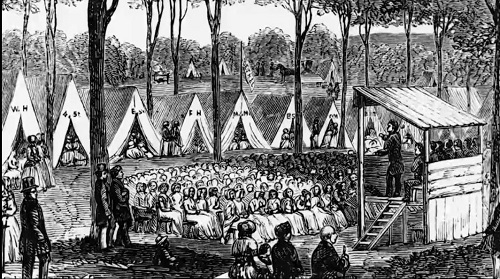 Above Picture: Logan County Kentucky Camp Meeting, Outside the Red River Meeting House
Second Camp Meeting—July 1800
►McGready and his colleagues planned another communion service to be held late July at the Gasper River church. They had not anticipated what occurred. An enormous crowd – as many as 8,000 – began arriving at the appointed date, many from distances as great as 100 miles – bringing their camping supplies. The services were held continuously from dawn until dusk with the preachers rotating their sermons. Preaching was conducted in the church as well as outside.
►McGready's testimony:
No person seemed to wish to go home–hunger and sleep seems to affect nobody–eternal things were the vast concern.

Little children, young men and women, and old grey-headed people, persons of every description white and black, were to be found in every part of the multitude, pricked to the heart, with clear, rational, scriptural convictions, crying out for mercy in the most extreme distress: whilst every now and then we could find one and another delivered from their burden of sin and guilt, by sweet believing views of the glory of God in the face of Jesus Christ.

Exhortations, given by children, were so moving and powerfully carried along by the Holy Spirit, that they produced greater conviction power than all the preaching.
~~~~
Results
►By the end of 1800 much of Southwestern Kentucky and part of Tennessee had caught the revival fire and it spread northward [into Ohio and Indiana]. As reports spread, people traveled long distances to see for themselves what was happening.
►The events at Red River and Gasper River Churches inspired camp meetings to be held throughout the region. A notable camp meeting took place at Cane Ridge, Kentucky in 1801.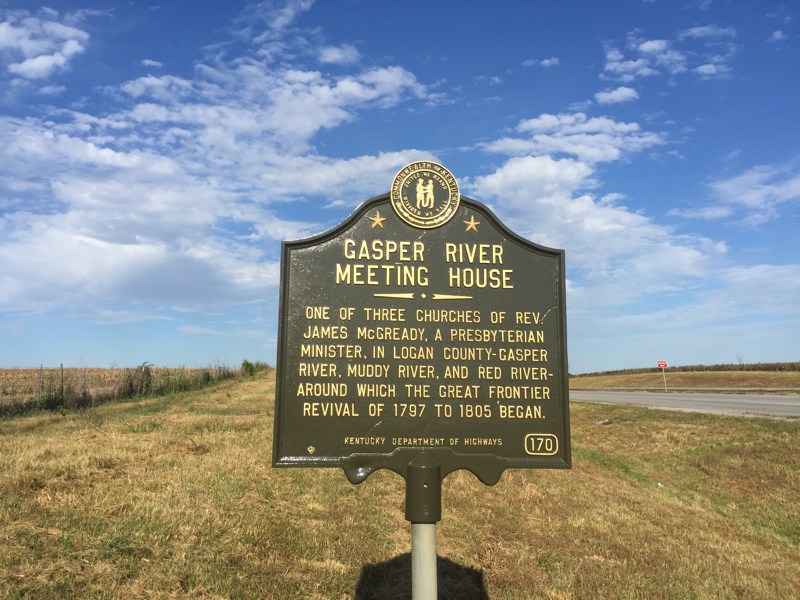 Gasper River meeting house no longer exists.
~~~~~
Sources