Uniting Indiana, Michigan, and Ohio
.. …….
________________________
Working Among
>
Some of the World's Most
.
.
________________________________
January Begins with a Bang!
Only 1 Spark Revival Seminar Scheduled for Two Locations
The Only 1 Spark Revival Seminar is a rare and unique seminar dealing with the topic which has united in prayer many thousands of believers in the tri-state area of IN, MI, and OH. This seminar is now scheduled for the first two weekends of 2018. Early Bird Discount for Fort Wayne is available till midnight on December 31.
Lapeer, Michigan; Cornerstone Christian Fellowship
Saturday, January 6, 2018; 9am – 4pm
►Obtain more information and register with this link.
Fort Wayne, Indiana; The Rock (Two-Days)
Friday, January 12, 2018; 7pm – 9pm
Saturday, January 13, 2018; 8:30am – 12:30pm
►Obtain more information and register with this link.
________________________________
Is Your Church Ready for Revival?
Read a recent website post of ours that will let you know if you are ready for the harvest that a genuine revival will bring. Conserve the Fruit of a Revival
________________________________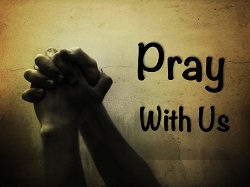 PRAISE & PRAYER
►ONLY 1 SPARK REVIVAL SEMINAR
1. Pray for the Lord to open doors for this seminar to be conducted in other cities.
2. Pray for those who will attend the January seminars, that they will become the spark that is needed for the passion for Christ to be set ablaze in their circle of influence.
►Starting Schools
Please pray for the Lord to provide the personnel and the means to start many more schools in the area where we are working overseas.
________________________________
Our Feet Overseas
Working Among Some of the World's
Most Unreached People
________________________________
Return Ministry Visit Overseas
We are now setting our 2018 schedule, which will include one or two trips overseas.
We are currently planning a medical trip, with doctors, dentists, nurses, etc. This will be an extended stay of about one month in the country. In addition to the medical ministry, we want to continue pursuing the unreached people group we are focusing on, as well as follow up with other projects in the area.
._______________________________
National Ministry Leader to Visit USA
From April 11 – 18, our home church (New Hope Christian Center, Waterloo, IN) will host the leader of the ministry we have been working with overseas. He ministered at our church two years ago and the congregation was greatly encouraged and inspired during his ministry visit.
The ministry this man is leading is extensive, as it includes over 80 churches and multiple schools in an area of several thousand miles. He also conducts ministry trips to other countries.
                            ________________________________
How Do You Sustain a Movement?
One Hundred New Leaders
The overseas ministry we have been working with is experiencing extremely rapid growth. The only way it can be sustained is through the multiplication of leaders. Please pray that the vision for 100 new leaders will become a reality by the end of 2018.
________________________________
Multiple Schools Started
There have already been several schools started in the jungles, as well as in the cities. The vision is to start a preschool at every location where there is a church, and then expand it to an elementary school as it develops.
Please pray with us for these schools can become a reality.
 ________________________________
Exploding Overseas Children's Ministry
While Chet & Phyllis were living overseas, they were involved in the Church-Planter Bible School. Students that have graduated from that school are now seeing amazing results. With the following link you can read a story on our website of one of the students, who is now leading an expanding children's ministry. Hundreds of Children
________________________________
Loose Lips Sink Ships
We recently saw a setback in one area due to someone speaking a little too freely about the plans to start a church among a primitive people group. Those of the majority religion can accept a "place of prayer," or a "place of worship," but when they hear people say they are going to build a "church," they can't tolerate that. That was a major disappointment to the pastor working in that area. They will now have to continue their work, knowing that they are being scrutinized a little more closely.
_____________________________________
Courageous Women Evangelists
While living overseas we had the pleasure of spending several weeks with a number of Bible College students whom we were trying to recruit for work in our area. One of the young ladies that did make such a commitment, Ms. Harum (not her real name), is still at work there, going into villages where many are fearful of entering!
During our recent visit overseas, we had the opportunity to meet with Ms. Harum, and though she had many stories to tell, we only had time to hear the following:
My (female) partner and I went to the village of Kulai (fictitious name) and looked for a person who would be open to the Gospel. We did find one lady who was open to discussing spiritual things, so we shared our faith with her and she was still very open to learning more. We then made the commitment to return the following week.
We came back the next week and spent time with her, taking her through biblical passages about who Jesus is, and her interest kept growing. We had made four visits with this lady, and on the final visit we encountered a serious problem. A mob of people assembled, threatening us with a beating because we came into their village teaching things different from the religion they have always followed and which every person in that village adheres to.
Typical of the dominant religion of that village, the children had been taught to hate Christians. They got sticks and were threatening to beat us. They began taunting us by crying out, "Christian, Christian, Christian, Christian."
A group of men, together with religious leaders and teachers also assembled. They were challenging us and saying that we were not welcome in their village because we were teaching things that were not true. We were not intimidated by their threats and confidently said we weren't teaching anything that wasn't true, yet we were forced to leave.
We considered our visits to the village of Kulai as an amazing success, because our responsibility was to ensure everyone heard the Gospel message. After spending four weeks with that one lady from that village, we understood that she had repeatedly told the people in that village, from the religious leaders down to the children, everything we had told her—so in effect, the entire village had heard the Gospel message!
Consider Supporting National Believers Like Ms. Harum and her Partner
Donations of $5, $10, $50 or more are very much appreciated.
Donations can be made by check, credit card, or PayPal, by clicking this link.
________________________________
Persecution Endured
Beginning in 2012, Pastor Matius (not his real name) and his wife moved into a home in a certain area where there were no Christians. They began their ministry by developing relationships with people in the community. After one year they started their church, which now (November 2017) has over 40 people. With the worship services being conducted in their home, the community noticed the growing activity at Pastor Matius' home and church building located a few feet from their home.
The people from the dominant religion of the area were not pleased with people from their community becoming Christians, so they began persecuting the pastor's family through intimidation.
They threatened that they would burn down his house and church.

They said they would keep an eye on when they leave their home and when they are gone, they will go in and steal everything they have.

They threatened to harm the family personally.

They set up barricades on the path leading to their home and church. This was done three times, but Pastor Matius and his wife simply tore it down every time, refusing to allow fear to control them.

The police and several local community leaders came to them and asked them to stop the church services. They asked them to stop the church because they were afraid that not only would the community form a mob and attack the congregation, they may also attack police station and the government leaders' homes and offices for allowing a church in their community.
Mr. Matius and his wife, with their combined weight of 200 LB, have stood up to this community's persecution, risking harm to themselves and the loss of their property for the glory of God and the expansion of His Kingdom.
God has Blessed their Faithful Obedience
Because of their persistence, faithfulness, and courage, Pastor Matius now has 5 churches in the surrounding region.  He and many others like him are a tremendous inspiration to the believers throughout his region and the world.
Motorcycle for Pastor Matius (and others)
Pastor Matius is in desperate need of a second-hand motorcycle ($600-700). He is unable to spend adequate time with the 5 churches, since he either must walk a long distance or continually borrow motorcycles from other people.
If you would like to donate toward a motorcycle for Pastor Matius, or other pastors and church-planters in this area, please let us know and we will get you a picture of the pastor with the motorcycle that you help to purchase. Donations of $5, $10, $50, or more are very much welcomed and appreciated.
______________________________________
Donations can be made by check, credit card or PayPal. Information for giving can be found on our website with this link.