Uniting Indiana, Michigan, and Ohio
………
________________________
.       
Our Feet

….

..///
      Working Among
>>>>>>
Some of the World's Most
……..
Neglected People
    ..
_________________________
.
________________________________
.
TRI-STATE REVIVAL
Does Prayer Work?
After 12 years of prayer for the county where we lived overseas, we witnessed a church-planting movement develop there. The movement had been starting 2.5 churches every month for several years and it's now moving toward 7 churches per month. We believe this is a direct result of long-term concentrated prayer.
Some erroneously view our work in the USA as a "Prayer Ministry." It is not. We have a "Revival Ministry" with prayer as its foundation.
Since our return to the USA we have worked to unite entire counties in prayer for revival, and it is paying off. These are the reports from Branch Co. MI, following their prayer gathering that took place on July 24:
►Increased attendance at churches.
►Increase in the number of people attending regular prayer gatherings in churches.
►Increase in the awareness of God's presence during corporate worship services.
►Increase in verifiable healings.
►Increase in the desire for God.
►Increase in the level of unity among county churches, exemplified by:
Another county-wide prayer gathering being scheduled for Jan. 2017.
Pastors meeting more frequently for prayer and fasting in small groups.
________________________________
.
Recent Prayer Gatherings
Sept. 11: Noble Co. Indiana
.
Upcoming Prayer Gatherings
Oct. 4: Paulding Co. Ohio
Oct. 22: Calhoun Co. Michigan
Jan. 2017: Branch Co. Michigan
________________________________
Fasting is a Normal Way of Life for the Christian
During several of the revival prayer gatherings we've been involved with, the believers have conducted 40-day fasts, as well as other fasts of varying duration.
Biblically, fasting is the norm in the life of the Christian. It isn't a rare spiritual exercise for the elite spiritual giants, as some suppose. United with significant time spent in prayer, we have seen fasting produce tremendous advances in our work overseas, and now in our work in the tri-state area.
Fasting guidelines can be obtained on our website with this link.
________________________________
Prayer Request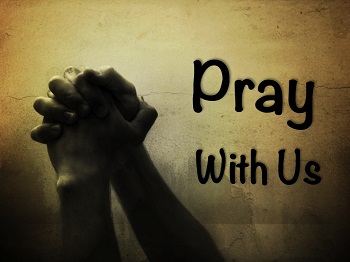 The Lord has been using us to unite counties in prayer for revival, and we now sense Him leading us to focus on our evangelistic calling. This is why we returned from living and serving overseas. Our prayer efforts were preliminary to evangelism.
Please pray for the Lord to open doors for us to preach the Gospel.
Pray for us, too, that God will give us many opportunities to speak about his mysterious plan concerning Christ (Colossians 4:3).
________________________________
Return Overseas
When we return overseas for several weeks this November, we will be able to bring back pictures and reports of what your donations have achieved.
If you would like to give toward any of the many needs prior to our departure, please see the list of ministry activity we are involved with below.
Family Donations: We know from experience that when a family gives toward a need, and they get a report back with pictures, the memory will remain with their children for life. Those memories will help shape those children's future and develop in them a generous nature.
If your family would like to donate to a need, and get a specific report back, below are the current needs we are involved with. For us to give specific reports on your giving, we'll need to receive your donation by Oct. 20.
________________________________
Opportunities to Give
►Orphans
►Widows
►Feeding the Poor
►Church-Planters
►Evangelism Training
►Bible School
►Support of Evangelism Teams
►Support of Students in 4 Jungle Elem. Schools
►Narcotic & Mental Health Rehab Center
►Support of a large missions training event that is to take place on Nov. 7-9
________________________________
.
Faithful  Supporters
We wanted to acknowledge the tremendous generosity and faithfulness of many people who have given to the ongoing work overseas, as well as the work we are doing in the tri-state area of IN, MI, and OH.
During the last couple of months donations totaling over $10,000 have come in to provide for two deep wells, which will provide water for hundreds of school children, as well as many villagers surrounding the schools where the wells will be drilled. You have also met all our needs for our November trip overseas.
.
..
..
For your generosity and faithfulness in giving,
we wanted to express our deepest gratitude!