Uniting Indiana, Michigan, and Ohio
in Prayer for Revival / Awakening
>>>>
________________________
      Working Among
>>>>>>
Some of the World's Most
……..
Neglected People
      _________________________
Unity Spreading Like Fire
During the few weeks since we've been back from our highly successful ministry trip overseas, we have seen a swelling movement among churches to unite in prayer for revival.
Right now we are in communication with at least 6 counties for the planning of county-wide prayer gatherings, and more counties are eager to start the process.
After concentrated and unified prayer by the Body of Christ, the reviving we are all seeking won't be far behind. We have confidence that this revival will take place because we have placed our faith in the promises of God; for He said that when we dwell together in unity…, He will command His blessing (Ps. 133).
The Favor of God
The movement we see taking place in our overseas ministry, and now in the tristate area of IN, MI, and OH, can be attributed to nothing but the favor of God. We know we aren't dynamic and apostolic-type leaders, and for the forward momentum that is developing, we can only say like Ezra & Nehemiah, "the hand of my God is good upon me." (Neh. 2:8; Ezra 7:28).
With this favor overwhelmingly being displayed before the eyes of pastors and intercessors throughout our region, we can take courage and "rise up and build" our lives, fellowships, and communities for the glory of God! (Neh. 2:18)
"And since the Holy Spirit can do His mighty works only where unity exists, it becomes of utmost importance that everyone who desires revival do everything in his power to bring about such a state of unity on as wide a scale as possible."

— A. W. Tozer in Unity and Revival
Uniting for Revival:
One County at a Time
………..SIX COUNTIES
At this time we are in various stages of communications with churches in 6 different counties, working together with them to conduct County-Wide Prayer Gatherings.
STEUBEN COUNTY INDIANA
A meeting of pastors took place on November 30th and a larger meeting will take place on December 17th @ 9am (Angola United Methodist Church). We're not sure what direction this is going to take, but it is exciting to see the interest growing.
The December 17th meeting is open to anyone, not just pastors.
PAULDING COUNTY OHIO
Due to the interest that has developed from our first meeting with pastors and intercessors from Paulding and Van Wert Counties, another gathering will take place on Thursday, December 10 @ 7pm.
This is open to anyone, not just pastors.
Address: 250 Van Wert St.; Latty, OH
VAN WERT COUNTY OHIO
We don't know if Van Wert will join with Paulding, or if they will conduct their own prayer gathering–details developing.
HENRY COUNTY OHIO /  FULTON COUNTY OHIO
We are looking at conducting a prayer gathering for Henry County on January 12th. As with Paulding and Van Wert Counties above, not sure yet if these two counties will unite for this prayer gathering or if they will conduct two separate ones. Communications is ongoing.
St. JOSEPH COUNTY MICHIGAN
We've met with a group of pastors from this county and there is tremendous interest for churches in the county to unite for prayer. We'll meet with them again on December 9th to take the planning to the next stage.
BRANCH COUNTY MICHIGAN
It isn't set in stone yet, but we expect to meet with a large group of pastors in Coldwater, Michgan in January or February.
LUCAS COUNTY OHIO
Though we are not directly involved, we are excited to see churches in Lucas County taking the initiative to talk among themselves for a large united prayer gathering. The ones leading the discussions is the intercessory prayer group Merge.
~~~~~~~~~~~~~~~~~~~~
Your Prayers are Vital!
An awakening, revival, visitation of God, or whatever phrase you want to place on what we are seeking God for, will not come by chance. This newness of life will only come through concentrated and determined prayer.
If your county or city is not currently planning a unified prayer gathering, please let us know and we'll see if we can work together with pastors in your region to make it happen.
~~~~~~~~~~~~~~~~~~~~
Our Feet Overseas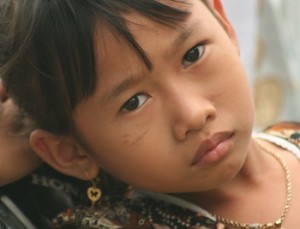 Results from October Ministry Among Primitive Peoples
The developments that have taken place in our overseas ministry during the last several years could be described as if someone was watching a dream unfold. We have seen a small handful of believers grow from being cowardly and introverted, to becoming one of the most powerful forces on that island.
In preparation for our October ministry visit we arranged for a team of doctors and dentists from the USA to join us and conduct clinics among primitive people, many of which had never seen a doctor or dentist before. These clinics gave our church-planters tremendous clout—resulting in 40 new believers with whom our church-planters are now doing follow up work.
Medical clinics as a means of evangelism had never been attempted in the region where we have our focus of ministry, and there was concern that the word would get out and we'd get shut down. The word did indeed reach the ears of governmental authorities, but instead of them shutting us down, they opened the doors wide for us, even going so far as to write letters of permission to enter their villages. Thank you for your prayers preceding this trip!
~~~~~~~~~~~~~~~~~~~~
Power Encounter Opened the Door
Narcotic and Mental Health Rehabilitation Center
How did we get permission to conduct Christian medical and dental clinics in a restricted access country last month (Oct. 2015)? It came through an encounter with the power of God.
The Narcotic and Mental Health Rehabilitation Center, that was started in conjunction with our overseas ministry partners, experienced a phenomenal healing of a government leader's severely handicapped nephew who was living at the center. Since that event the center has been welcomed with open arms by the community surrounding it. The government leaders said they didn't care if it is was Jesus that has healed people, they just want to see their people whole and well!
..
.
.
.
……………………………………………………………………………………………………………………………………..
Opportunity to Participate
Donations are welcomed to be given to this narcotic and mental health rehabilitation facility, which currently has 23 patients and a staff of 2 families. The operational cost is a little over $1,000 per month.
Costs include:
1)  Daily food
2)  Medical checkups
3)  Transportation
4)  Salary for staff
Additional upcoming expenses:
1) Drilling a well and possible installation of a filtration system.
2) Expansion of the center from 23 to 100 patients.